Have you been applying to a lot of jobs and did not receive any calls from recruiters? Or has your application been ignored by many companies? An unappealing CV is why you may not land your dream job. Your resume for job application is how you first introduce yourself to the hiring manager. The hiring manager looks for a resume that assures them that this candidate has what it takes to get their work done.
It's also believed that your CV works as your marketing document, where you should sell yourself to the hiring manager to advance for the interview. Other than hiring managers, you may have to send your CV to many other professionals in your industry to network. In such cases, a professionally constructed resume will help you build credibility among your peers.
Irrespective of the designation you're applying for, the best CVs are relevant, to the point, and showcase authoritativeness. Once you've referred to the job description, you can understand your recruiter's need. Adding those specific points will make your CV stand out. That helps the recruiter gain confidence that you are ready to take up the responsibilities.
Besides technical skills, many recruiters also look for soft skills like communication, problem-solving, creativity and, most importantly, your ambitions. Considering the competition with the numerous CVs of other applicants, your recruiter will have a short attention span. Adding irrelevant information will make you lose the opportunity.
How to get your resume for job application noticed
Whether you're a fresher or an experienced professional, getting your resume noticed is a handful. Considering the number of applicants, even if you did manage to get your resume noticed, getting a call for an interview is equally perplexing. Never forget that a CV is a professional document that showcases your educational background, skills, professional experience, achievements, and ability to fulfil your employer's needs. As per the job you're applying for, you should highlight your strengths and exhibit yourself as an ideal candidate.
Our ultimate goal is to impress the hiring manager with the skills and experience you possess. So, here's a checklist that can help your resume stand out.
Customise your resume for every job application
Every company has a different work culture, and their approach to hiring a professional also varies. Moreover, in comparison, every company holds a varied reputation as an employer brand. Thoroughly understanding your tentative employer and the interviewer could be a good strategy while making some final edits to your resume.
For example, if you're applying at a modern startup with a GenZ work culture, you can be slightly informal and add a little humour. Conversely, if your employer's work culture is conventional, you have to be strictly formal and exude professionalism.
Keep your resume clear, concise and be straight to the point
While drafting your resume, keep in mind to be as concise as possible, eliminating unnecessary and unwanted information. It does not matter if your resume is 2 or 4 pages. Equally important, as you provide more explanation about your roles and responsibilities, higher the chances of the recruiter shortlisting your resume.
On the contrary, freshers should try and maintain a single-page resume that gives brief information about their academics and certifications. Many organizations even find the hobbies section unprofessional, and you can chat with your recruiter to understand the employer's perspective, if possible.
Write an impressive career objective in your resume
Including a career objective in your resume is a must. Here you get an opportunity to grab the attention of your hiring manager with your communication skills. Apart from your academics, the objective section is the only paragraph where the hiring manager will know about your aspirations. Leverage this opportunity by writing what you expect from your career and employer. You can also let the hiring manager experience what goes inside your creative brain.
60% of the resume get shortlisted through an impressive career objective.
Explain your skill set in the resume for the job application
Many candidates miss out on describing their skillset. And that does not mean you need to explain your certification or skills (after all, skills will be the primary reason you'll be selected). However, here you may have to explain your experience with learning the skill and what makes you an ideal candidate. That includes your project details, collaboration with colleagues and mentors, small achievements, and improvements throughout your experience.
Create a resume for job applications with your accomplishments
Achievements and accomplishments are the final flourishes in your resume. This section will tell your hiring manager that not only you are qualified enough to take up the job, but you are also good at it. And that differentiates you from your competition. Moreover, you can also describe how throughout your experience, you've excelled at your work. You may also quantify your accomplishments, adding numbers will give a clear picture of your expertise.
Make a resume for job application appealing to professionals
Your resume or CV should look professional and visually appeal to senior professionals working with your employer. Although, be cautious of not going overboard with designing a resume that buries your professional information. Things to keep in mind for resume designing are crisp and clear font style, adequate font size, professional colour choice, and avoiding juvenile graphic elements. You can also select a template to make it easier.
Do not forget to add a cover letter
A cover letter allows you to say why you are an ideal candidate for the position. You can also describe the roles and responsibilities you undertook at your job. You can also tell your story, especially if you have a career or an education gap. A cover letter is a must, explaining the reason for the same.
Moreover, you can also let your employer know why you want to work with them. A strategically drafted cover letter makes your profile stand out, and you will receive a call from the recruiter for an interview.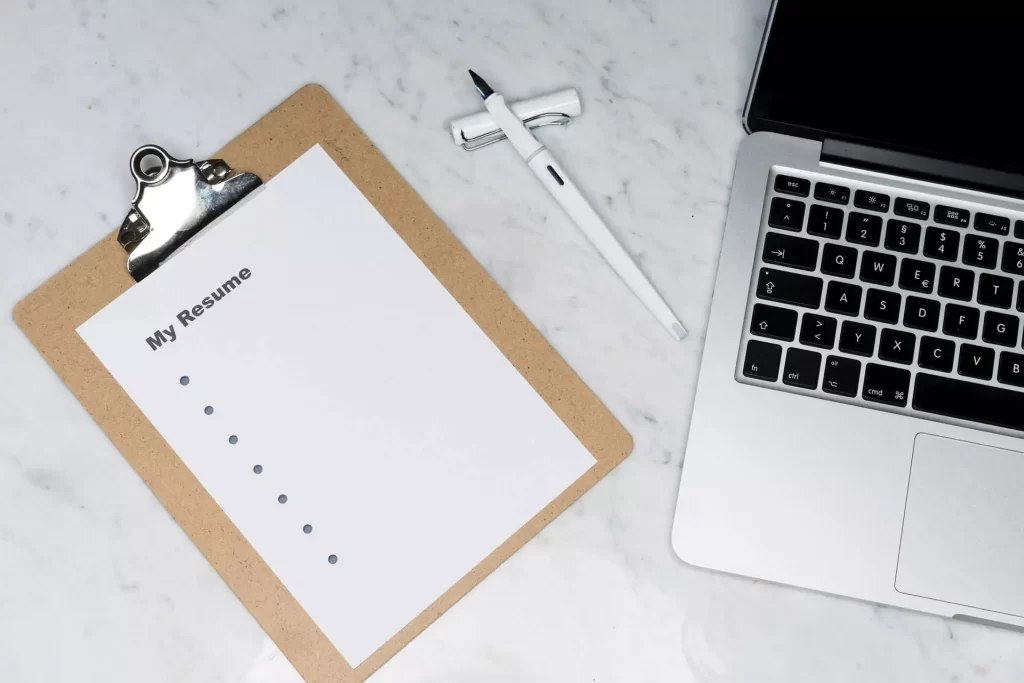 Top 5 online resume makers enhance your resume for job application
Although we understood how to create a killer resume for freshers, that would help you move forward to the interview. There may be a lot of factors that may differ when creating a resume for a job application by yourself. The reason for rejection could be as simple as the design appeal of your resume or based on how you showcased yourself in the document. Using an online resume maker can help you eliminate these mishaps.
Following are the five best free online resume makers that can help you create an ideal professional resume.
JobGrin is a free online resume builder that helps you to make attractive and effective resumes. Creating a resume with JobGrin is very convenient, and the user interface is very similar to the websites we often use. The high point, you can make your resume quickly in no time. All you need to do is enter your details and choose an appropriate template.
Create resumes quickly by entering job details and inspiring your resume from hundreds of pre-written resumes. This tool, in particular, will help you find attractive words that leave an impression on your hiring manager. If you feel confused, don't worry, they have a step-by-step guide to work on their platform.
ResumeNow is a platform known to help you make a resume from the recruiter's point of view. They are associated with recruiters across multiple domains to help you identify the influencing factors in your resume. Within minutes you'll make a detailed resume that leaves a remarkable impression on your recruiter. Moreover, they also have templates for cover letters, proposal letters and business letters.
ResumeHelp will allow you to create a resume in the most structured form. If you are someone who likes to write in bullets and tables, you must try designing a resume from here. We've experienced those hours consumed in making a perfect resume that would land you a job. With ResumeHelp, in no time, your well-presentable resume will be ready.
Zety provides a personalised resume template based on the information you provide. The list of templates keeps going on, and the templates are very intuitive, making your resume easy to understand and exposing your potential effectively. Additionally, Zety is quick to set up and builds your resume in quickly.
Summary
To sum up, there are multiple ways to attract the recruiter to your resume when you apply for a job. Follow the abovementioned tips, and you will get a call back from your hiring manager. Always be keen to proofread your resume before submitting it, as a resume with errors will get dumped in the database. Especially if you are editing your resume every time you send it to the recruiter, it becomes vital to proofread your resume. A faultless document radiates professionalism and your trait of attention to detail. The time a recruiter will on your resume probably be less than a minute, so make sure your resume is to the point and manage to leave an impression. Any kinds of silly mistakes may get your resume rejected.
Outworks Solutions wishes you all the best for your future endeavours, and click on the link if you are looking for jobs in IT.